- I feel like I did back when I first started watching Buffy. The difference is that instead of getting slammed into with the 90's- it's 80's hair styles.

- Lynda's swear box is the best.
Main notes so far:
Current Mood:

amused

Current Music:

Press Gang Ep. 2
Responds to Abrams' comments that it was a mistake
Dec 4th 2013 By George Wales
Yesterday we reported that J.J. Abrams had suggested that the reveal of Benedict Cumberbatch's character in Star Trek Into Darkness had been a mistake, with the director suggesting they should have come clean about Khan from the get-go.

However, Cumberbatch himself has moved to defend the tactic, making the point that for those who hadn't been following the film's every development on the internet, the reveal had the desired effect.

"What a dickhead," chuckled Cumberbatch when informed of Abrams' comments by IGN. "The amount of times we had to lie for him… the amount of times I had to talk about it not being my character!

"No, I love him," continues the star, "but I don't know if it was a bad or a good thing… the intention was to have a reveal in the audience that was going to be thrilling. That worked to an extent.

"Not everybody knew what they were in for when they went into the theatre… for those people it was a good thing… There was a verbal and physical reaction to it [in theatres I saw it in], so it kind of works."

It all seems like a bit of a storm in a teacup to us, and while there's an argument that it was a twist for the sake of a twist, we were just happy to see Khan back in business. Put us down as Team Cumberbatch on this one…

Source: IGN
Total Film
this clip
from the DW Christmas special.
Anybody's welcome to come and hide too.
That's cool- I'm just gonna build a bunker made out of blankets and pillows to hide in while a chunk of the DW fandom works itself into the inevitable frothing rage over
Current Mood:

amused

Current Music:

Sound Horizon - Jiyuu no Tsubasa (Wings of Freedom)
Would rather have been up front about the villain
Dec 3rd 2013 By George Wales
J.J. Abrams has been discussing Star Trek Into Darkness, and has revealed that in retrospect, he would rather have been up front about the identity of his villain (spoilers ahead).

Of course, Benedict Cumberbatch's "John Harrison" was revealed to be none other than classic villain, Khan, a development that Abrams would rather have made clear from the get go…

"The truth is, I think it probably would have been smarter just to say upfront, 'This is who it is,'" says Abrams. "It was only trying to preserve the fun of it, and it might have given more time to acclimatise and accept that's what the thing was.

"It was so important to the studio that we not angle this thing for existing fans. If we said it was Khan, it would feel like you've really got to know what Star Trek is about to see this movie. That would have been limiting.

"I can understand their argument to try to keep that quiet, but I do wonder if it would have seemed a little bit less like an attempt at deception if we had just come out with it."

Meanwhile, Abrams was also asked about Joe Cornish as a potential director for the third film, a notion he seems genuinely excited by.

"My guess is that's up in the air," says Abrams. "I adore him and love him and can't wait to see what he does next. Hopefully it will be Star Trek. Whatever it is, he's brilliant. Attack the Block was one of my favourite movies of the year when it came out." We shall see…

Source: MTV
Total Film
Title:
Let The Light In, Chapter 3
Pairing:
Esca/Marcus
Rating:
NC-17
Length:
5k
Warnings:
Summary:
Esca's an acrobat, and he has an idea when he meets someone who used to dance in the show
(
Read more...
Collapse
)
Put this together last night...
Current Mood:

crushed

Current Music:

Fluke - Absurd
bit of writing
is a beautiful read.
And I agree with them about how despite how wonderful the special was- it would have been even greater if Chris Eccleston had decided to join in.
Dear god this
Current Mood:

sick

Current Music:

Laura Marling - Devil's Spoke
Ummm- okay..so this why they're swearing, and using "such ~language~":
They're seniors in highschool (even though frankly- I've heard kids swearing as early as 5th-6th grade- maybe even younger.)
Yeah- that whole thing where one of their really close friends might be dying?!
Who gives a shit about ~bad words~ when one of your best friends might be dying?
It's kind of like in
Zombieland
- where the zombie is flying through Columbus' windshield, and he's all "Oh shit!"? I dunno 'bout y'all, but I'd be surprised if anyone would be monitoring their language in such a situation, and going, "Oh poopy. A zombie just went through my windshield. :("
I also had a fun moment yesterday where I was giving some (read: massive) hints that there may be a queer interracial developing between two of my characters, and I realized that I was coming up with an
actual canon
relationship. That will (hopefully) one day be published...
I was just explaining a scene, in my horror story, that I'd typed up yesterday to my mom- and her main question was "Why are you having them use such language (swearing)?" because one of my characters is saying something like "This bitch is not taking my girl!" due to one of the characters sounding like they're about to die by some unknown force.
Current Mood:

hungry

Current Music:

nicki minaj - starships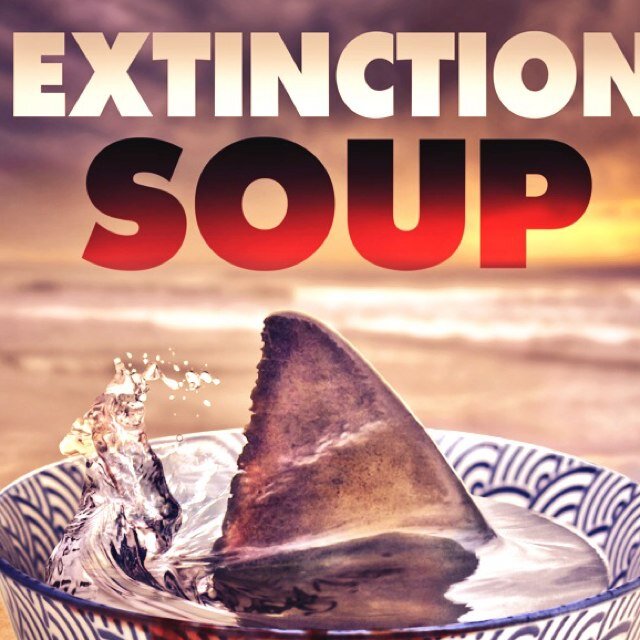 "Extinction Soup" follows documentary filmmaker Philip Waller on his quest for adventure as he sets out to tell the story of his larger-than-life friend and extreme sports legend, Jimmy Hall. The film quickly takes a surprise turn when Waller finds himself consumed with exposing to the world an environmental catastrophe in the making - the extinction of the oceans' shark population through the mass slaughter of these magnificent animals for their fins. Waller documents the efforts of conservationist Stefanie Brendl as she fights to educate lawmakers and help pass ground-breaking legislation that will curb the consumption of shark fin soup, considered a delicacy in many Eastern cultures, and the impetus behind 70 million sharks being killed per year.
Learn more...
Current Mood:

worried

Current Music:

House of Cards - Main Theme